Automation and Electronics, Inc. was formed to provide automation services for energy producers and other local industries in 1956. We started out primarily serving the Wyoming oil and gas industry. Since that time, the solutions we provide have ballooned and the installed base of products reaches from Barrow, Alaska, to oilfields in California, Texas, Louisiana, Michigan, Montana, and many spots in between. The systems integration group has increased the reach of our services to several foreign countries as well.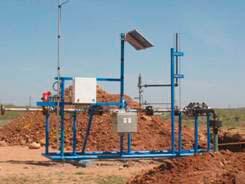 If you have an oil field automation need and don't see a solution here, give us a call. Turnkey solutions are provided for customer requirements and our board level products can be programmed for new applications at competitive prices. If an existing board doesn't meet the need and the quantity is large enough, we will be happy to work with you to design a custom solution.
Field automation groups can select valve control schemes and signal types. Pulsed outputs for valve control are often used with 1-5 Volt battery backed solar powered systems. Plant automation standards generally call for 4-20 milliamp control (typically used with 24 VDC or 120 VAC line power). Single and multivariable transmitters are supported.
Connectivity options include wireline, data radio, wireless Ethernet, GPRS, EDGE, FatPipe® SCADA and Internet based monitoring and control schemes. Theta XSPOC, Case Services csLift, Intellution®, Wonderware®, Asset Trakker® and RSView® hosts are supported.
Water injection controllers for secondary oil recovery and Salt Water Disposal (SWD) controllers measure fluid flow and operate control valves to satisfy volume and pressure requirements. Turbine meter, orifice plate, wedge meters, ultrasonic or Coriolis meters provide flow rate and accumulate data.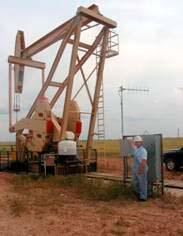 Water Alternating Gas (WAG) systems are available for enhanced oil recovery. Flowing well controllers help optimize oil production boosted by carbon dioxide. Special purpose RTU or PLC based WAG platforms with NIST-14 calculations for recycled CO2 are available.
Rod pump controllers are available for constant speed or variable frequency drives. Natural gas engine RPCs are under development.
Facility units for well testing, tank battery leak detection and theft protection, etc. are designed and built to customer specifications.
Lease Automatic Custody Transfer (LACT) units and PLC based EFM systems are available as pre-engineered or custom configurations. These handle single and multi-meter 2 to 8 inch instrumentation. They are designed and built from the ground up at our facility.
Pipeline monitoring and control systems protect production. Compressor station SCADA systems are designed and built to client specifications.