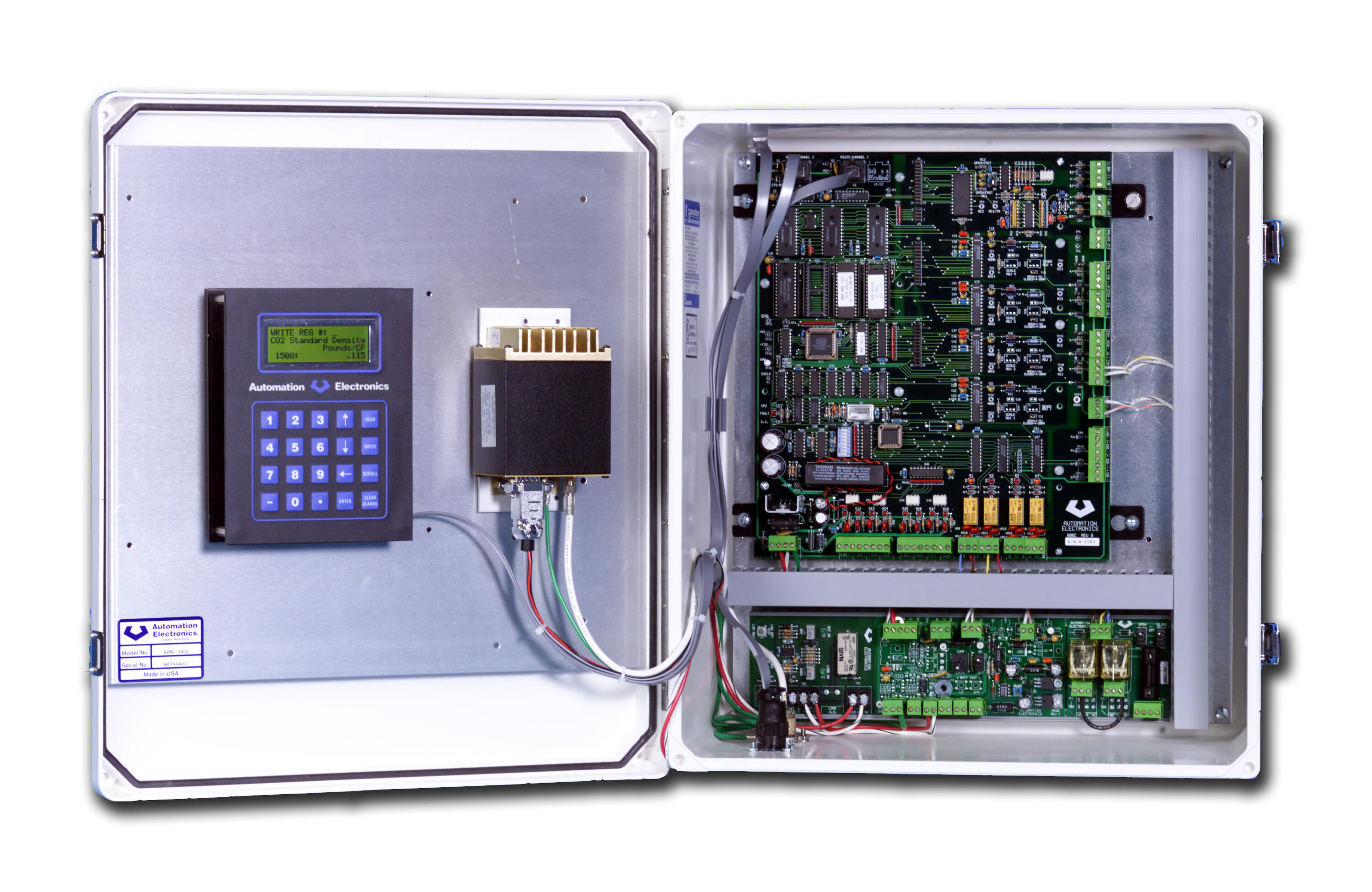 The Automation and Electronics, Inc. Water Alternate Gas (WAG) controller is designed to monitor and control the injection of water or carbon dioxide at the wellhead.
Control modes available include flow rate regulated with pressure limits and pressure control regulated with flow rate limits. Absolute value set points (above and below target range) or % dead band control valve operation models may be specified. User configurable pressure fall-off, step rate and step pressure test programs are provided.
The WAG unit was developed specifically for injection well monitoring and control for oil field operations. It is fully configurable by the operator using an optional local interface, Personal Digital Assistant or portable computer. The unit is supplied with typical parameters ready for specific application tuning. Setup parameters may be downloaded from a host computer. A local / remote switch allows easy hardware access to the valve movement using toggle switches. Software lockout with notification provided by host and local interface.
Features
General
Flow control with pressure override
Pressure control with flow rate override
Pressure fall-off test software
Step rate and step pressure test software
Direct turbine meter input
Wedge Meter® or Coin Meter® Flow Measurement for CO2 and H2O
Manual valve override
Local / Remote switch
LEDs for easy status indication
End element trend buffers
Options
DUKS local operator interface
RTU Link: Hand held with rugged serial port and interface software
12 VDC @ 10 A battery backed supply
10 A-H/day solar power supply
Communications: Wire line to wireless Ethernet
Fast WAG option allows fully automated injection with interlocked valves. No blind flange required.
Software
The Water and Gas Injection Controller application program is divided into the following modules:
Elapsed time counter module
LCD and key pad user interface module
Time of day module
Gauge off time module
Analog sleep mode relay module
Field input scaling and alarm handler module
ESD control module
Pressure fall off test module
Step rate and step pressure test module
Control valve module
Control valve override module
ESD and run-time totalizer module
End element buffer module
Watchdog timer with recovery
Specifications
Mechanical
Enclosure:
18" x 16" x 8" NEMA 4X white fiberglass enclosure
 
Bailey controller hinge mounted replacement kits available
Environmental
Operating temperature:
-40 to 158 deg. F (-40 to 70 deg. C)
Relative humidity:
5 to 90% non-condensing
Power required
Typical:
12 VDC, 24 VDC, 110 VAC and custom power supplies available. For most Permian Basin area controllers with radios, we recommend a solar power supply, 65 Watt panel and 100 A-H battery with a charging regulator, load shed module (LSM) and RTU power distribution board (RPDB)
CPU / Memory
CPU:
8 MHz CMOS 65C816, 16 bit
Memory:
256 kB battery backed RAM, 256 kB EPROM
Input/Output
Digital inputs:
Eight 1500 VDC optically isolated; 10 mA sense current single ended
Analog inputs:
Four 4-20 mA or 1-5 VDC (user selectable) non-isolated A/Ds
Relay outputs:
Two 7.5 A 30 VDC DPDT for valve actuator control and two 2 A 30 VDC DPDT
Turbine meter input:
One 30 mV to 10 Vpp, 10 to 3 kHz
Pulse input:
One optically isolated 0 to 2,500 Hz 12 V sink to ground @ 10 mA
Miscellaneous:
Optional multi-variable input through RS-485 bus (MODBUS RTU)
Communications
Serial ports:
One RS-232 local operator interface port, one RS-232 communications port and one RS-232 / RS-485 port
Host communications:
110 bps wire-line modems and licensed frequency, spread spectrum and wireless Ethernet radios supported to 19,200 baud
Wedge Meter is a registered Trademark of ABB.

Coin Meter is a registered trademark of Preso Meter Corp.